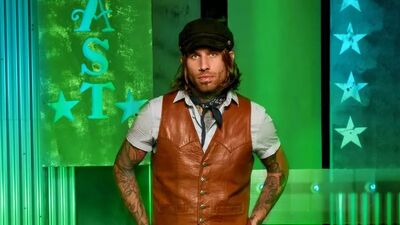 Jimmy 'Snaz' MacKenzie 
is a tattoo artist based in Boston, Massachusetts. Featured on Seasons 11 and 13, he is a returning artist on 
Ink Master
, and was crowned one of the three winners of 
Ink Master: Turf War 
(Season 13). Jimmy competed with younger brother Kyle MacKenzie in Season 11.
Early Life
Edit
MacKenzie was born 16 Feb in Boston, Massachusetts. Little has been revealed about his childhood or anything as such, but it is expressed and known that he struggled with crack cocaine and crystal meth addictions as a teen. MacKenzie found an escape through graffiti art, and eventually went on to become a well-respected tattoo artist, teaching younger brother Kyle how to tattoo later on. 
Ink Master Appearances
Edit
MacKenzie appeared in:
Grudge Match - Cleen vs Christian (S11, 2018) - MacKenzie and brother Kyle competed on Team Cleen in the eleventh season of Ink Master. MacKenzie was eliminated in Episode 9 ("Tipping the Scales").
Grudge Match (Spinoff, S1, 2019) - MacKenzie faced Season 11 competitor Angel Rose to 'settle their grudge'. They tattooed twice and were judged by Ryan Ashley Malarkey, DJ Tambe, and Cleen Rock One.
Turf War (S13, 2020) - MacKenzie represented the East Coast alongside Jessa Bigelow, Emac, Andrew Hicks, and K Lenore Siner in Season 13, which divided the artists by the region of the United States they come from. MacKenzie pulled through and made it to the season finale - however, the COVID-19 pandemic caused the live finale to be cancelled, resulting in final three artists MacKenzie, Bob Jones, and Angel Rose showcasing their master canvases online and splitting the $100,000 prize among themselves.
Personal Life
Edit
MacKenzie has one son, Salem James, who was born in 2012.
MacKenzie often attends tattoo conventions and shows in the United States, which are all documented and presented on his social media pages. He seems to love to paint, and he often sells original works and prints both at these conventions and online.
He resides in Rockland, Massachusetts.
MacKenzie says he gets his outfit inspiration from classic rock bands and other things he grew up with.
His American flag pants were custom-tailored for him.
Due to his unique style, he does not fancy shopping malls, for they never have anything that matches it. If he ever does shop at malls or clothing stores, he often searches the Women's section for clothes.
The most important thing about clothes to MacKenzie is not the appearance of them, but the fit of them. He prefers tighter clothes.
Nicknames
Edit
The infamous nickname 'Snaz' comes from his old teen friends, who called him snazzy for the way he dressed.
MacKenzie claims his liking for being called 'Daddy' comes from his humor - in full detail, he was insecure as a child, and making humor out of his own insecurities helped him cope. 
"What the fuck is a schematic tattoo? Does this look like a man that went to college?"
"The Midwest are doing a goblin tattoo of me, and I'm glad they're paying mortgage to Snaz Daddy; I've seen so many tattoos of me before, but this is the best dressed!"
"Beignet? What's a beignet? Isn't that the thing that cleans your butthole?"
"Artistry is what makes people unique. If you don't have artistry, you're probably gonna end up working in a used video store."
"I don't even eat bread. Carbs are bad for you, how do you think I look this good?"
Social Profiles
Edit
Community content is available under
CC-BY-SA
unless otherwise noted.