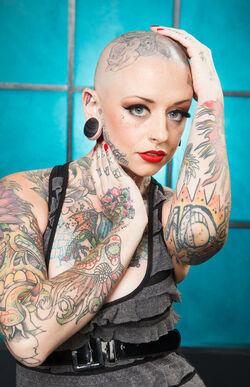 Madison 'Maddie La Belle' Loftis is a tattoo artist who was featured in season three of Ink Master.
She is a tattoo artist at Corrupted Arts Studio in Greensboro, North Carolina.
Ink Master Bio

[

]
A true Southern belle, Maddie uses her charm and hospitality to maintain a large following of clients. She is a self-taught tattoo artist and learned the basics of the industry underground in South Carolina. 
Maddie is the perfect combination of sweet and spicy as she is out to make sure that she gets the respect that she deserves and consistently reminds the men to not underestimate her as a competitor. She refuses to be damsel in distress and is not afraid to tell other girls to 'buck up' when things are getting tough. Maddie's work is extremely versatile, but she is often best recognized for her portrait work and her black and grey artistry.
Gallery
[
]
Submitted Portfolio

[

]
Elimination Challenge Tattoos

[

]
Maddie was the third tattooist eliminated from season three of Ink Master.