Get is a tattoo artist who was featured in season two of Ink Master.     She also made an appearance in season three as a human canvas.    
She owns her own shop, Wyld Chyld Tattoo, in Pittsburgh, Pennsylvania.
Ink Master Bio

[

]
Sarah has a passion for classical art. Before tattooing took over her life in 2009, she had a thriving career in graphic design and illustration, working with numerous design firms on product branding campaigns.
Sarah considers herself to be very insane and says she definitely has what it takes to win this competition. Not a fan of traditional styles because to her they don't look realistic enough, Sarah specializes in portraits and pins. She says that what she enjoys more than anything is illustrating through her tattoo work, expanding the medium and pushing the boundaries of what is considered tattoo art.
Gallery
[
]
Submitted Portfolio
[
]
Elimination Challenge Tattoos
[
]
Sarah was the runner-up on season two of Ink Master. 
Season Three
[
]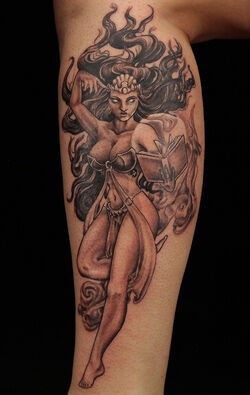 Sarah was tattooed by Kyle Dunbar in season three.